Hi! I'm Annie Quigley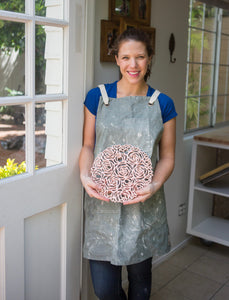 Hand Made + Hand Carved
Within weeks of first learning how to make pottery on the wheel, I began carving my work with a knife.  My skills in both areas grew quickly but I needed to find distinctive patterns and designs for my work.  Behold: my travel sketch book!
My work is greatly inspired by trips to Europe, New Zealand, Uganda, America's National Parks, and time spent living in tourist destinations: NYC and LA. The natural beauty, architecture, and culture of these destinations have made a big impact on me and on my work.
I work out of my home studio in Los Angeles, CA.  I make my work on a potters wheel and carve the form when the clay is a perfect moisture level.  I take hours and hours to smooth over rough edges and to refine each piece.  I choose glazes that will play kindly with the negative space and that will be beautiful with the form.  
You can find my work here, in select galleries, and at art fairs listed under 'Events' in the menu bar.
If you would like for me to come give a workshop in your area, send me an email or request your studio/guild to do so.
I am so lucky to do what I love.  I hope you enjoy my work as much as I enjoy creating it!